Join the Tracejourney Server
Sign up for a Discord account
If you don't have a Discord account yet, visit the Discord website (opens in a new tab) and click on the "Login" button at the top right corner of the page. Then, click on the "Register" button and follow the prompts to create your account. Make sure to provide a valid email address and choose a secure password.
Download and install Discord
After creating your account, download and install the Discord application on your device. Go to the Discord website (opens in a new tab) and click on the "Download for [your operating system]" button. Follow the on-screen instructions to complete the installation.
Launch Discord and log in
Launch the Discord application and log in with the email address and password you used during the registration process.
Explore Discord
Once you're logged in, take a moment to familiarize yourself with the Discord interface. You'll see a list of servers on the left side of the screen.
Join the Tracejourney server
To join the Tracejourney server, click the button below.
Join Tracejourney Server (opens in a new tab)
Confirm joining Tracejourney
After clicking the "Join Tracejourney" button, Discord will display a confirmation screen asking for your permission to join the server. Review the server details and click on the "Accept Invite" button to proceed.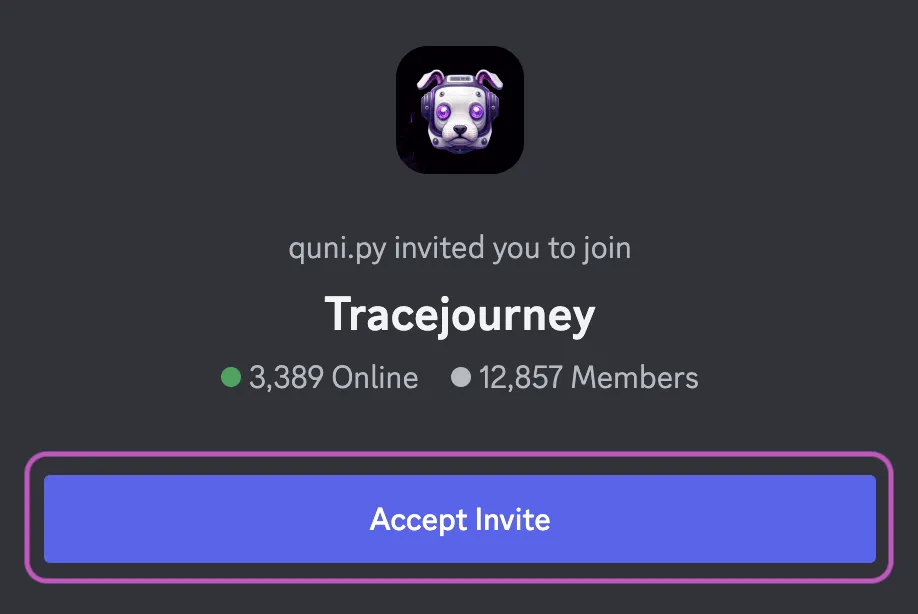 Customize your server settings (optional)
Once you've joined the Tracejourney server, you can customize your settings to personalize your experience. Right-click on the Tracejourney server name in the left sidebar and select "Server Settings" from the dropdown menu. From there, you can change your nickname, upload an avatar, adjust notification settings, and more.
That's it! You have successfully joined the Tracejourney server on Discord. Now you can participate in conversations, interact with other members, and explore the channels and features within the server. Enjoy your time on Tracejourney!